A big part of our job with Wardrobe Detectives is attending events. As much as you would probably think this routine is fun and cool, it involves a lot of effort – sometimes we would work the night out taking pictures of stylish people while wearing high heels and fitted skirts. The preparations are a big part of this as well. When you are running from your day job to a photo shoot followed by a styling job assignment or a meeting, getting ready to party and deciding what you will wear are the last issues you want to think about. This is the reason we have to plan everything in advance. We decided to give you a glimpse of  our pampering routine and show you how we choose outfits for those theme parties with special dress codes.
Last week, for example, we have been invited to a special pre-Juno Awards party hosted by Cointreau on the beautiful rooftop patio of the Charbar. Since the main dress code of the night was "chalet luxe" we expected a lot of guests to wear extravagant furs. First of all, we are not into furs due to our personal ethics. Second, we believe a theme party is a reason to play with your creativity and try to fit in while being completely different from the crowd. We found these traditional Russian scarves in Gabi's closet and decided to go with a stylish a la Russe duo. Our "chalet luxe" was all about caviar served with "bliny" pancakes, luxurious drinks, balalaika songs and extravaganza. 
Gabi chose a jacquard long midi skirt for her dark romance outfit and accessorized it with two vintage brooches (one of them was lost there).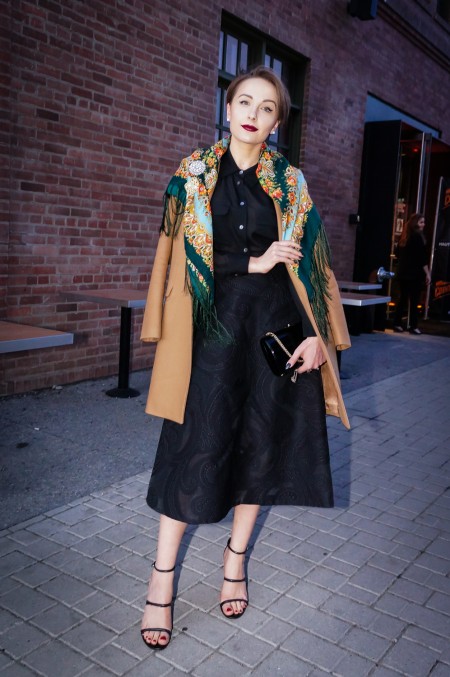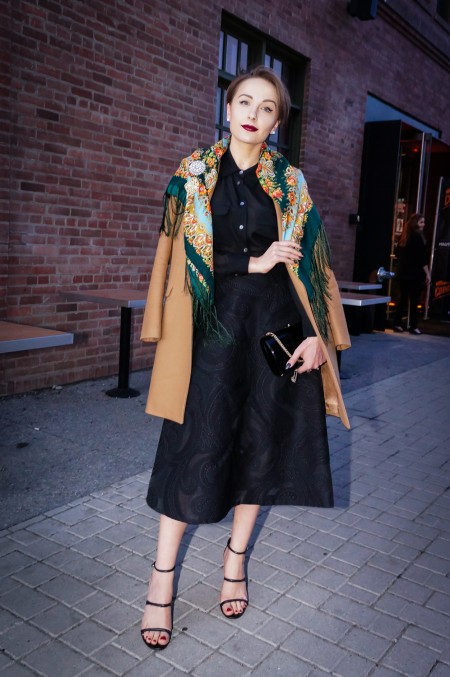 Julia opted for a pair of skinny leather pants and spiky red heels to confer her outfit a modern vibe.
Also, check out this fun Insta video from the event we made for you:
About last night, a short video recap from tghe #hauteyyc @cointreau_officiel #junoawards #party at @charbar #yyc #yycevents #yycblogger #yycfashion #yycstyle #calgaryevents #calgaryfashion #canadianfashion #canadianblogger #yyzfashion #torontofashion #yvrfashion #mtlfashion #fashioncanadians #stylist #nofur