GABI CONAC is the leading personal stylist and personal shopper in Calgary who founded Wardrobe Detectives in 2014. Affordable, functional and accessible are three central values that define her approach to fashion and describe the company's primary styling services.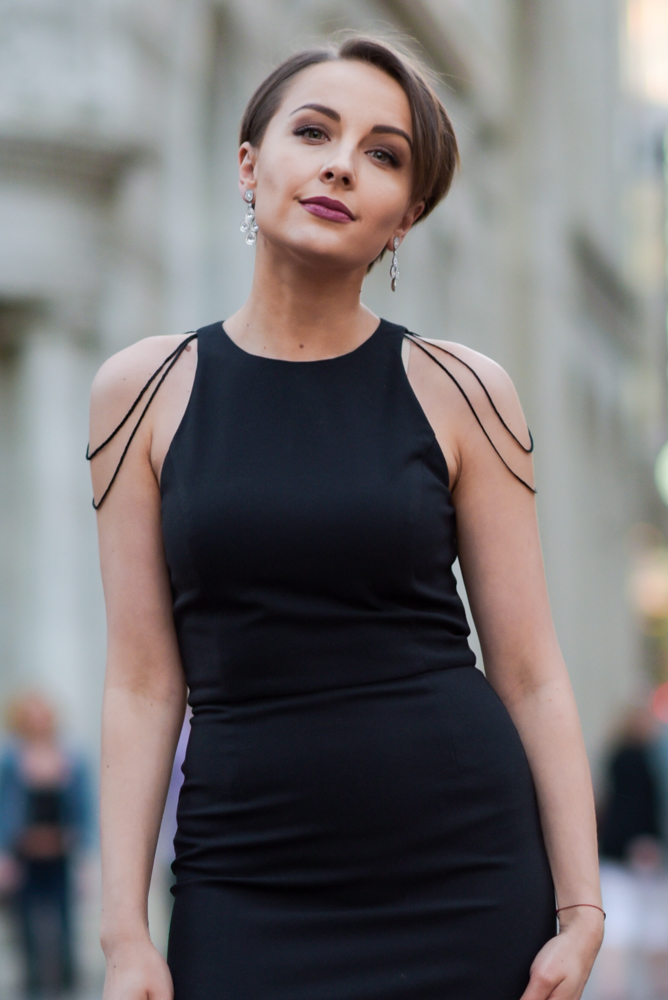 Gabi Conac is the leading personal stylist and personal shopper in Calgary.
As a Personal Stylist
"I believe that a functional wardrobe is one of the keys to personal and professional success. A carefully built style will boost your confidence reaffirming your skills and strengths. An intelligent investment in your personal style will help you save money and time in the long run. Therefore, choosing the right personal shopper and personal stylist for you is where you should start. "
More about me…
I am coming from a small Eastern European country called Moldova. One aspect of my cultural background is that you have to look good regardless of the occasion. My parents made fashion an essential part of my upbringing. I remember how we would traditionally go to the local market on Sundays, which would be the best occasion to dress up and socialize.
Later on, while shopping with my mom, she would spend her savings on the most coveted outfits. What we could not find in stores, she would have custom-tailored for me – tartan pantsuits paired with wool hats, long satin dresses worn with lacquer red shoes for special occasions and so on…
My official relationship with fashion started ten years ago when I earned my Communication and Media Science Bachelor's degree. My final paper centred on fashion as an interpersonal and business communication tool. Later on, I continued writing about style, covering events, celebrity style, international fashion and shopping trends. Likewise, I focused my career on styling workshops, helping private clients as well as corporate consulting.
A new start as a Personal Stylist in Calgary
In 2013, I moved to Canada, starting a new chapter in my personal and professional life. Wardrobe Detectives came to light naturally in 2014 when I realized I had to start it all over from scratch and continue my journey as a personal stylist and fashion consultant in Calgary. In just a couple of years, I advanced the brand and managed to help hundreds of clients achieve their best image. 
More about Wardrobe Detectives
The best way to earn my client's trust as a personal stylist and personal shopper is to be transparent and accessible. As a result, the idea of a blog came to life. Wardrobe Detectives is a platform to showcase my style vision and expertise, a source for my clients to understand if they identify with my fashion sense and direction. This blog is my official business card.
My mission as a personal stylist
Many studies have found that better-looking people tend to earn more and enjoy more success among peers within the workplace and business. I believe that each person is unique and has fantastic potential. My mission is simple.
I help clients shape their personal style and build a functional wardrobe by providing accessible, high-quality fashion-consulting services.
To sum up, here is how I make it happen. I assess the current status of your wardrobe and help you build towards a complete, versatile and functional style. As a result, you end up having a wide range of fabulous outfits for any occasion.
I am trying to break some big misconceptions about having a personal stylist. First, you don't have to spend a fortune to look good. Second, my services are accessible to every person. Third, personal style should be affordable and democratic.
My 3-step guide to a functional style
Personal Stylist, Personal Shopper, and more…
I find that most clients are more interested in my personal shopper and personal stylist services. I suggest approaching the styling process step-by-step. Moreover, it's important to start with an essential wardrobe audit. This will help me better evaluate your needs and set up the strategy towards building a fully functional wardrobe.
The personal shopper service is probably the most requested and popular. While most people find it frustrating and overwhelming, I love shopping. Therefore, I will point you towards the most relevant shopping spots and help you find the most valuable items. As a result, this will save you days in the process and not break the bank in the long run.
The personal stylist service will help you combine your items into great outfits for work, meetings, official events, leisure and other important occasions.
---
Contact Gabi for our personal shopper, personal stylist & fashion consultant services in Calgary.