Easter is one of my favourite holidays, reminiscent of home and my childhood in the countryside. I take great pride in being born and raised in a small town in a tiny country called Moldova. On Easter Sunday, gathering at the table was a special fond memory I now cherish more than ever. This year, I decided to share some tips and ideas on how to decorate your Easter table and where to buy everything you need for a perfect table setting.
As our brain seeks inspiration intrinsically from our day-to-day life, I only realized later in the process that my predominant colours for this tablescape were blue and yellow. I followed the lead and created a table inspired by hope and peace, keeping the brave people of Ukraine in my heart. I chose an off-white rustic table cloth to serve as a blank canvas for my concept and layered classic blue-and-white chinoiserie plates on wicker placemats. I love a good contrast in design, so my antique Thailand rosewood and brass flatware seemed like an excellent choice. The washed yellow cotton napkins are from H&M Home, the rattan napkin rings are from Homesense, and the pussy willow branches are my little personal ad-on.
My central focal point of the table is the mango wood H&M Home dome with nesting eggs. Find untraditional and creative ways of displaying your Easter eggs. To add more contrasting patterns, I served the traditional baked Easter sweet bread, aka "cozonac" (you can order one here if you are in Calgary), on a vintage-raised wicker plater. The traditional candlestick holders were sourced from Value Village. Thrifting is my language of style, you know it.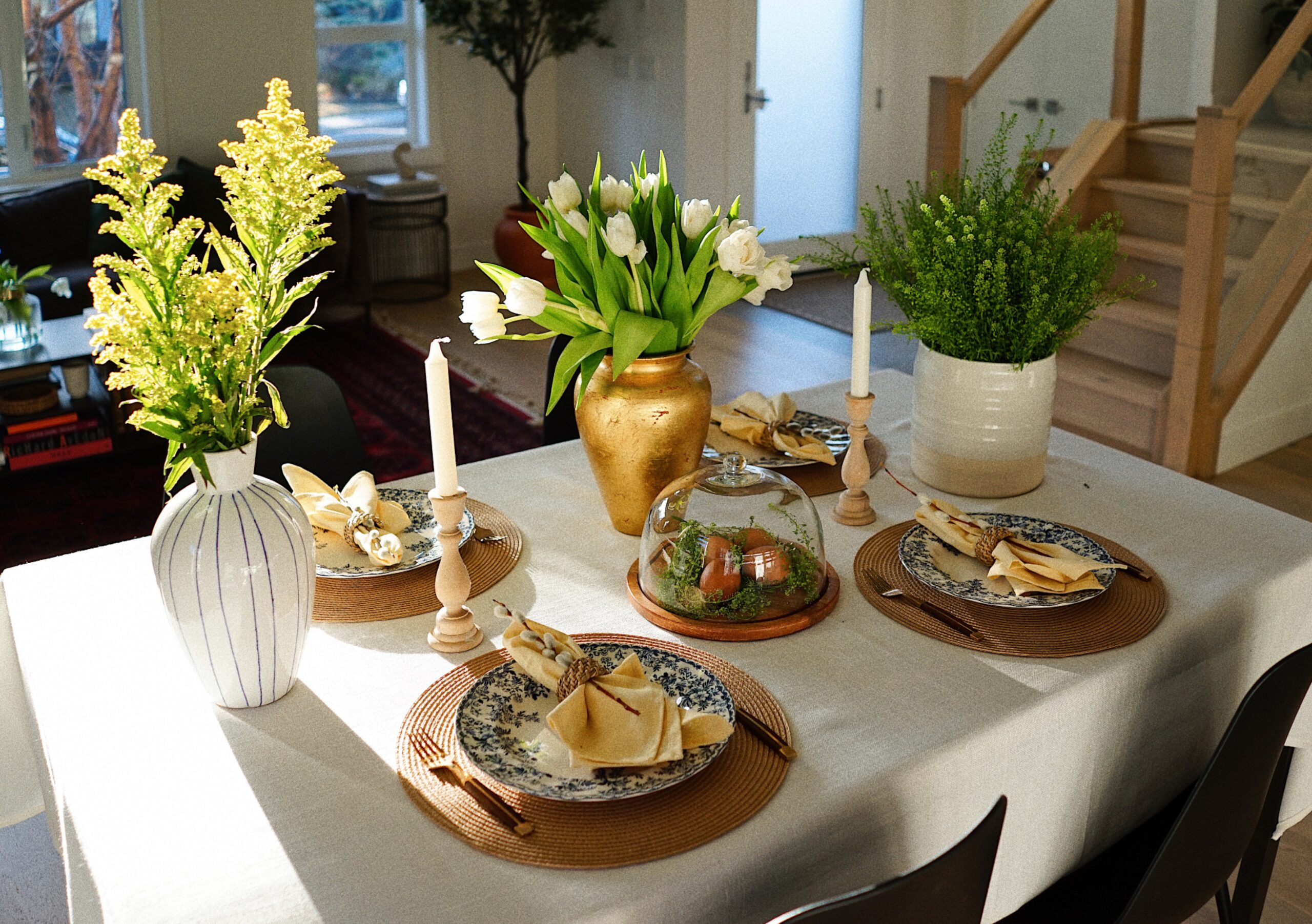 I naturally associate Easter with nature's revival and the abundant fresh greenery that I have displayed in a mix and match of pottery and jars. I purposefully chose yellow foliage in a white and blue jar to evoke the idea of peace in my home country's neighbouring Ukraine.
Enjoy below the behind-the-scene process. The dress and shoes are Zara.
View this post on Instagram