Packing for a summer getaway or a cityscape can be both exciting and stressful. We bet at least 90% of women overpack or leave the decisions for the last day prior to departure. After a few overweight luggage situations and a round of frustration, I decided to work on this issue and improve my packing and planning routine. Based on my latest traveling experience, I came up with my ultimate guide to a stress-free and stylish summer vacation.
Plan ahead. Take your time and start your packing arrangements about two weeks in advance. Avoid the last minute situations when you realize you are missing something important. A Pinterest mood board is a good tool to help you get inspired and decide your own style direction for the trip. Plus, you have the time to catch up with some shopping.
Check the weather forecast for your destination and do some research to understand the local weather patterns. LA, for example, seemed like the hottest destination I could wish for but it used to get really chilly during the night time, so a smart layering was key for me. I packed my neutral suede trench that worked as a perfect cover up for all my outfits below.
Build your style according to your itinerary and travel plans. This is the part where your travel calendar comes in. There are plenty of apps that will help you organize your trip accordingly. Matching your outfits to your daily destinations will help you avoid "I have to change asap" situations.
Create a visual lookbook of your outfits. You can keep it on your phone or you can print it and include it into your itinerary plan. This is a very useful tip we learned from one of our clients who is always poking fun at her OCD tendencies.
Pack only one or two pairs of fancy heels and bet on comfort footwear. Comfort footwear doesn't necessarily mean a pair of sneakers or Birkenstock sandals. You can easily make a statement with a pair of bold espadrilles.
Leave as many T-shirts at home as possible. I always tend to go for the easy, ironing-free options when on vacation. This time I decided to pack only one T-shirt and insisted on wearing more dressy tops. It worked perfectly as I had no other options.
Versatility is the key. If you are running low on your luggage space, choose functional items that will work in at least two outfits. The same rule works with day to night situation. I changed this T-shirt for a black camisole later in the evening and was instantly ready for dinner service in a nice restaurant. 
Embrace the local vibe. To me, LA seemed dreamy, glamorous and bohemian at its finest. Since I am a well-known drama queen, I simply could not visit the chic Mediterranean style Getty Villa without wearing a revealing off the shoulder lace top. And Tarantella Napoletana on my mind, of course.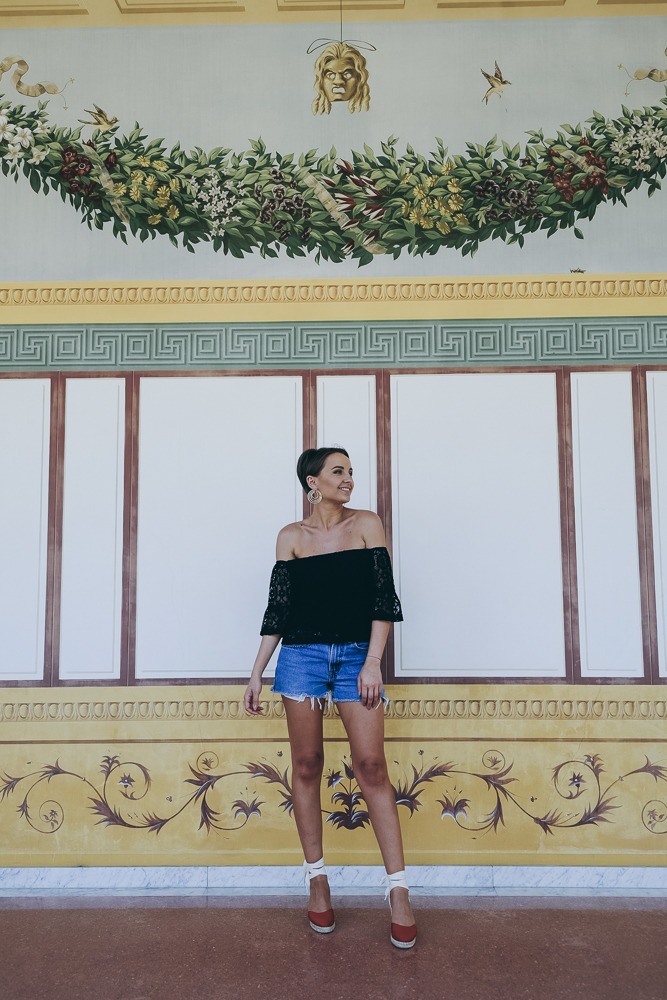 Don't forget to pack a tanning lotion. You need a natural and sexy glow in order to confidently reveal some skin and put your bare legs on display. My St. Tropez bronzing mousse is a game changer.
Visit museums and art galleries. There is nothing more stylish than being educated and have a genuine interest in beauty. My LA must do list – the Getty Center, The Getty Villa, The Broad, LACMA and a hidden gem on Rodeo Drive – Galerie Michael – with an impressive collection of Picasso works for sale. I can't wait to go back and visit the ones I did not enough time for.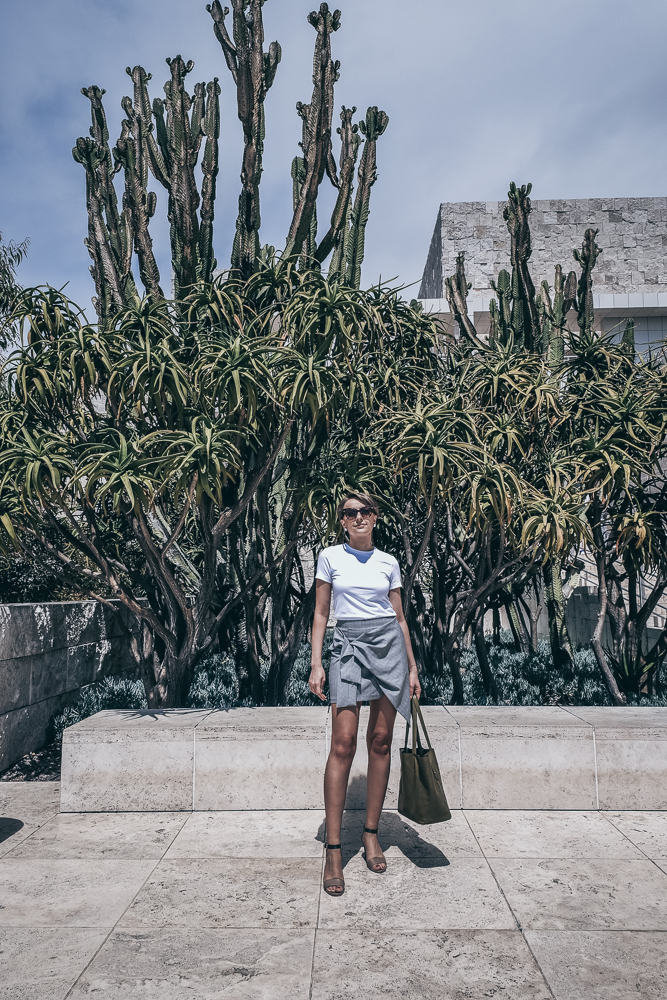 Bonus. Use a stylist's help and don't forget to contact us if you have troubles with your travel packing.