Apart from being a personal stylist, you might know that I work as Director of Marketing in a company that I love a lot. While being pregnant, I spent a fair amount of time trying to successfully combine my date time job with three styling appointments per week in the evenings and weekdays. So there was no time left to write about pregnancy style, let alone go out for photo shoots. I did, however, gather a lot of knowledge and expertise that I am willing to share with my beloved clients and readers. So here is how I learnt to pull pregnancy style with zero maternity wear.
Aside from being such a happy time, we should agree that pregnancy takes a toll on your emotional well being and self-esteem. For nine months your body undergoes dramatic changes that continuously challenge your self-appreciation. Throughout this journey, I learnt that fashion was a great tool to improve my feelings. But I strongly disliked maternity wear. First of all, it's ridiculously overpriced. And most of the time it feels so uncomfortable that you would think it was designed by people who were never pregnant and had no idea of bladder issues and super sensitive skin.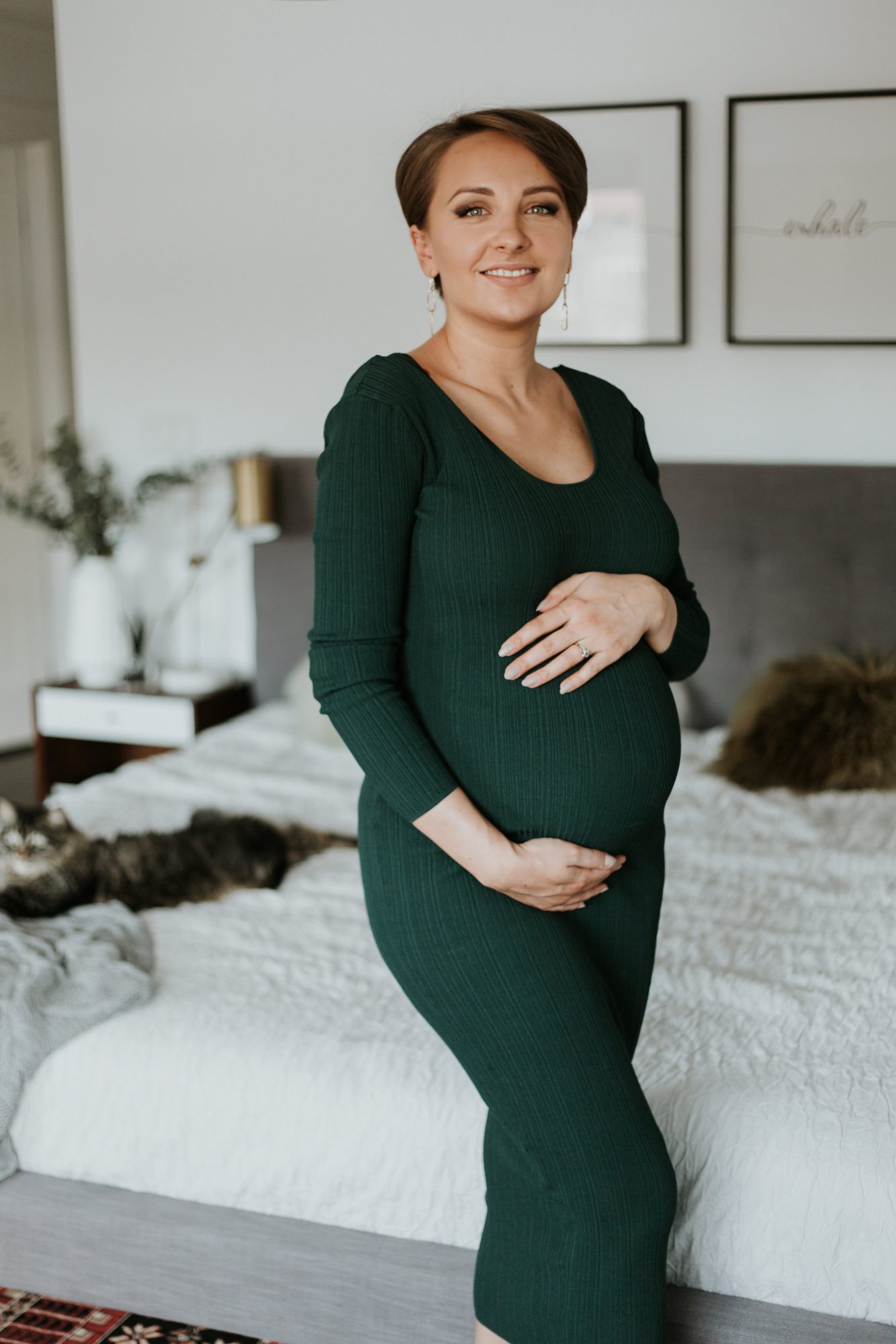 So, here are a few tricks on how to make it through nine stylish months without buying maternity wear.
During the first months, buy stretchy pants that are one size bigger and have no zippers. A good alternative is a stretchy fabric or an elastic waistband. I had two pairs that served me throughout my entire pregnancy – a fitted affordable pair I found at Winners and a pair of Helmut Lang culottes that I am still wearing these days.
A stretchy tube dress can easily go above your big bump and become your favourite maternity skirt. Here is how I played with mine.
Loose floral dresses were a win for me. I might have looked like a whale from a side, but they were so damn comfortably airy and cute from the front.
The "imperial waist" is the new fashion term you need to know. The good part is that you will continue enjoying those elegant dresses after pregnancy.
Oversized boyfriend shirts, animal print and silky bohemian shirts are so easy to find and style.
Camisole dresses are a 90's inspired staple that brings a lot of versatility into your wardrobe. I used to throw a tailored jacket on top of them to visually elongate my silhouette and make my bump more elegant.
Blazers can be worn with skinny jeans at the beginning of the pregnancy and can be left unbuttoned throughout the last months. Just wear them with a light oversized T-shirt or a dress.
Jersey is one fabric you don't want to miss during this time when your skin is extra sensitive. It's soft and lays nicely, creating a perfect proportion.
Wrap dresses and shirt dresses are perfect for the first few months when your bump is still not showing a lot. I bought my silky wrap dress planning on wearing it postpartum.
Oversized coats are not only cool but they will embrace your growing bump. I invested in a neutral colour and versatile silhouette that will keep me warm many seasons after pregnancy.
My all-time favourite pregnancy staple is knitwear. I have been wearing tube dresses on repeat and they stretched from size S/M to embrace my growing bump. I wore the emerald and the black dresses from day one to my last day of pregnancy.

Processed with VSCO with a5 preset
My favourite stores to shop for more affordable pregnancy styles were Winners, Marshalls aka TJ Maxx, Nordstrom Rack and Zara.
I hope you find this advice helpful. What tricks did you use for pregnancy style?